Pop Artist Jazmin Grace Grimaldi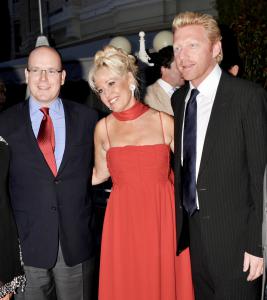 HRH Prince Albert II of Monaco, Gina DeFranco and Boris Becker at the First Annual Better World Awards, Roc4Humanity in Monte-Carlo, Monaco at the Hotel De Paris benefitting the White Feather and The Prince Albert Foundations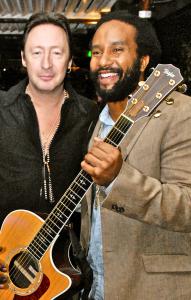 Julian Lennon and Ky-Mani Marley at the 2nd Annual Better World Awards, Roc4Humanity in Monte-Carlo, Monaco at the Fairmont Hotel benefitting the Love Over All Foundation
Roc4Humanity Concert will Feature Pop Artist Jazmin Grace Grimaldi and Grammy Artist Jose Feliciano
Jazmin Grace Grimaldi, classically trained opera singer and eldest daughter of HRH Prince Albert II of Monaco, will perform her soon-to-be-released pop single, 'Fearless.'"
— Gianna Armani
NEW YORK, NEW YORK, UNITED STATES, November 14, 2018 /EINPresswire.com/ — On Wednesday, November 14, 2018, The 8th Annual Better World Awards, Roc4Humanity, will benefit Wells of Life. The black-tie awards show recognizes outstanding humanitarians who are rock stars in the fields of theatre, music, sports, and business for making the world a better place. Acclaimed by critics around the world as one of the greatest living guitarists, eight-time Grammy Award-winning musician, Jose Feliciano will celebrate the 50th Anniversary of 'Light My Fire.'
Jazmin Grace Grimaldi, classically trained opera singer and eldest daughter of HRH Prince Albert II of Monaco, is set to kick-off the entertainment with a debut performance of her soon-to-be-released pop single, 'Fearless.' Grammy and Emmy nominee, Clayton Bryant, will perform a tribute medley to humanitarian artists who have made the world a "better place." Gianna Armani holds the Committee chair.
The 2018 Honorees are Harry Benson CBE – Humanitarian Arts Award; (Mrs. Wyclef) Claudinette Jean – Humanitarian Helping Hand Award; Jean Shafiroff – Humanitarian Philanthropist Award and Fred Schneider – Humanitarian Musician Award. Kerry Kennedy, President of Robert F. Kennedy of Human Rights Foundation, will present Harry Benson CBE. CBS Radio and CNN anchor, Rita Cosby, alongside CEO of SohoMuse, Consuelo Vanderbilt Costin, will co-host the event. A Sports Hero Humanitarian will be announced Nov. 14, 2018.
Global humanitarians will be acknowledged by the Wells of Life charity foundation for their worldwide peacemaking efforts at the annual fundraising event. Wells of life provides clean drinking water in rural areas in Uganda, where clean, sanitary water is scarce. The Founder of Wells of Life, Nick Jordan, along with the President, Pete Callahan are recognized for their philanthropic efforts to save lives in Africa, one well at a time.
Gina DeFranco, CEO of International Luxury Media is the Executive Producer and eight-time creator of The Better World Awards: Roc4Humanity!
Endorsed by The Love Over All and Bob Marley Family Foundations, the gala begins with red carpet arrivals at 6:30 p.m., followed by a cocktail reception, four-course dinner, awards show and auction, concert, live DJ, open bar and dancing until midnight.
Past honorees and presenters include Prince Albert II of Monaco, Julian Lennon, Bryan Ferry, Boris Becker, Flavio Briatore, Mr. Elie Saab, Mrs. Roberto Cavalli, Troy Bayliss, Ky-Mani Marley, Denise Rich, Jimmy Jean-Louis, Edwin "Buzz" Aldrin, Pamela Anderson, Kweku Mandela, Olivia Gaynor-Long, Kweku Mandela, Kelly Wright, Eva Longoria Baston, Jenson Button, Eddie Jordan, Mark C. Thomas, Jeanine Mabunda, and Johan Christer Novsjo.
Tickets are available online and the gala is open to the public. For ticket sales online, please visit The 8th Annual Better World Awards Event 2018. To purchase tickets, please contact Mike Olsen at (949) 467-4097 or email Mike@wellsoflife.com. Individual tickets prices range from $500.00 to $4,000 (for front row). All tables seat ten.
All proceeds will go towards Wells of Life, a charitable organization providing clean water to rural communities in Uganda, Africa.
For press inquiries regarding The 8th Annual Better World Awards, please contact Gina DeFranco at (917) 855-5705, or Caitlin Robinson at (480) 329-4646, or email: caitlin.ilminc@gmail.com.
Directions: The Loeb Boathouse is in Central Park at Park Drive North, E 72nd St in New York City, NY. (Please enter Central Park only at East 72nd Street and Fifth Ave.) A private Boathouse van will pick up guests to and from the Boathouse on Fifth Ave and East 72nd on the NW corner.
About Wells Of Life
Wells of Life is a Christian non-profit organization that provides access to clean, sustainable drinking water for the rural communities of Uganda. Our focus stems from the desire to improve their quality of life, one well at a time. We're committed to using all our available resources to help people access this basic human need. Every well provides an opportunity to share the gospel in word and in action. Our vision is a world where access to clean water is no longer an obstacle to living a healthy and productive life.
***
Barbara J Kimler
1962
+1 949-521-4962
email us here
Visit us on social media:
Facebook
Twitter
LinkedIn
Wells of Life Provides Lifesaving Water to Uganda

Source: EIN Presswire